Christine Amber, My Eventing!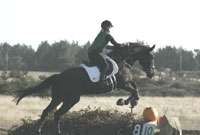 I am Christine Amber, Equestrian Training's owner and trainer. I have over 30 years of horse experience, from training and showing horses to imprinting and raising foals. I have worked in large commercial ranch settings and with many individual private owners. I have handled hundreds of horses, giving me a good eye and quick reference for a horse's temperament and potential. I took my first lessons in English riding when I was seven. I began riding and showing Western when I was eleven. I start horses for all disciplines, and for my own pleasure I generally ride English and compete in Eventing, comprised of Dressage, endurance and show jumping plus cross country jumping.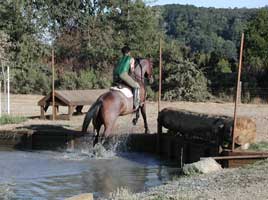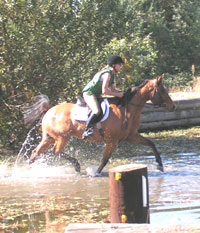 I have been certified by the American Riding Instructors Certification Program and by Certified Horsemanship Association. I continue to further my equestrian education by attending clinics of well known national and international trainers such as, Captain Mark Phillips, John Lyons, Clinton Anderson and Jill Walton.
I have a Masters degree in Counseling Psychology. I have studied experimental and animal psychology as well. With this background, I teach and train honestly and humanely, always keeping your and your horse's safety and the horse's intended use as priorities.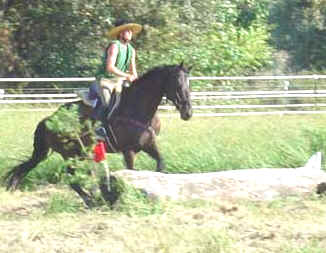 A famous psychologist, Abraham Maslow, theorized a Hierarchy of Needs and Self-Actualization, simply stated, one must first have their basic needs met — health, safety and security — before they are able to focus on Actualizing, or learning. So before beginning riding or training you or your horse must be healthy. For both horse and rider to feel safe and secure, horses must be trained to respectfully accept humans as their leaders and handlers, and humans must learn to be consistent, patient and concise so they may effectively handle horses.
I will train your horse, not allowing it to behave unsafely toward humans.
I will use and teach you the psychological learning principals of Classical Conditioning and Conditioned Response to effectively handle horses.

Horse Training
Early animal behavior studies have their roots in experimental psychology. Classical Conditioning, Conditioned Response and Imprinting— the foundation for many schools of equestrian training—were pioneered by Psychologists: Pavlov, Lorenz and Skinner. These psychological principles in horse training and behavior are the core foundation of trainers such as: John Lyons, Pat Parelli, Clinton Anderson, Monty Roberts, and many others. Like these master horse professionals that I greatly admire and respect, I approach training from a foundation of psychology and animal behaviorism.
Most of the horses that come for training are barely broke-to-ride or have a problem that their owners can not solve. I see many new owners who are learning, for the first time, what having a horse is all about— time, commitment, responsibility and consistency.
Training a horse is not always easy, not always fast and not always fun.
Evidence shows that horses learn a task quickly, but memorize through repetition (McClean, The Truth about Horses, Barrons, 2003). Repeating and practicing behaviors over-and-over, more than a hundred times, is what it takes for a horse to memorize trained consistent behavior or Conditioned Responses to your cues.
In my training, I work first to condition the horse to be safe, and next to be secure in basic equestrian foundations. Only after mastery of basic foundations can a horse safely master advanced tasks such as jumping, trail work or gymkhana.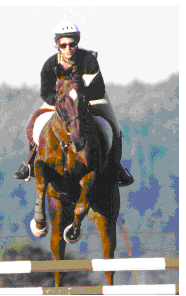 Here are Pickle and I at a schooling event in Pescadero. Pickle is not the best Dressage mount because he has quite a range to his disposition, but he often brings home the blue ribbon for show jumping. For a brief intro to eventing, www.riding-for-sport-eventing.com/ or go the the official eventing site, www.eventingusa.com.

amber@equestriantraining.com
Use the "Back" button on your browser to return to the homepage