Christine Amber










Trainer / Clinician
ACRI, CHA III, AAHS
Gilroy, Ca
408 888 8703



Last edited June 4, 2012
My Horses
| | | |
| --- | --- | --- |
| Our main herd | Dancing Pickle, | BootZ |
| | Peanut. | Razzle and Dazzle |
| | Amos | |
The pictures will be slow to load, after reading my note, you can view alot of pictures separately of my horses by selecting their names..
I have not owned many horses during my lifetime. Growing up horses belonged to the family, or my "adopted" family. I didn't own my own first horse until at 16, I was given one of the babies we raised. In my early twenties I gave that horse to a family on a lease option and didn't own my own horse until I was 40.
We just lost our big percheron draft Amos, Dec 05. He was old and his body and systems failed. I still miss him.
I do not raise horses as I get attached to them and a horse can be a lifetime committment. Although in June of 05, my husband and I raised our baby Peanut.
I have only sold one horses that I have owned, I almost always give them to a student or client.
Also now since 07, we have Derby. I helped buy Derby for Calero Ranch when it was open. I think we bought him in 95. Later, my dear friend Amber bought him from the Ranch for her daughter, Annie MacDonald who was killed in '07. Annie, we miss you.
My Horses
Jackson
A 16'3"hand bay thoroughbred gelding. Suitable for beginning through intermediate English riders. Jackson has a solid quiet disposition. He also has food allergies, he is even allergic to alfalfa. But, he is a great mount and a very comfortable ride. He would make a very nice equitation horse because he is so comfortable and carries himself so well. Jackson has the most personality of our horses. Here he is chewing on Razzle's tail!!
This is Brian Jumping Jackson at Woodside Horse Park in a Hunter Pace.

Jackson is retired now. He spends his days with Pickle or crying for Pickle when Pickle has a job to do.
Razzle and Dazzle
Razzle is one of my white pony mules. I rescued She and Dazzle from an auction in 94; they were sold as a driving pair. They had been so abused that they shook and urinated when they were touched. After I started Razzle under saddle at walk / trot, she proved to have a very quiet disposition and was good with small children under saddle.

She and Dazzle were given to a 4 -H family in San Jose after they were started, but came back home to live in Nov. 98. Sadly Razzle had some very bad experiences during her time away and has become extremely fearful of men, carts, muck sticks, vet care etc. Sadly, there was not enough supervision where she lived.

Dazzle is my second white pony mule. Since I rescued both she and Razzle I am committed to her. She was so abused when she first came in 94 that she had lumps on her head and blood coming out her nose. She is still head shy, but has a special place in my heart. Sadly after her stay with the 4-H family, she too has lost the trust she started to develop before she left. Unsupervised barns and unsupervised children around horses often turn out some very sad cases. Razzle and Dazzle will have a final home here now where they will not be abused or tormented.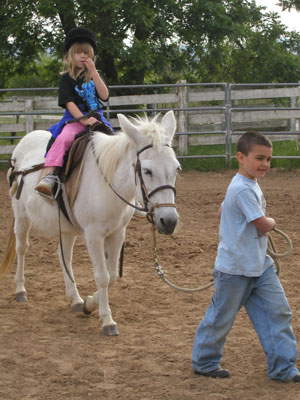 Raz and Daz have been busy since they came home, and seemingly enjoying their life and part-time babysitting jobs!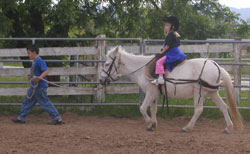 In 2011 I had to put down my girls. Dazzle was becoming very blind. She had trouble finding her feed bowl. She was easily frightened and would bang into things. For their last few years, the girls wandered the property. Razzle would make a very loud bray to me every morning, or any time the trailer would return. I have a visual memory of her mouth wide open, her eyes rolled back and the loud AWWWW EEEEEE AWWWWW EEEEE

They are burried her on the property together. When Razzle became very painful one day, I knew it was time. I knew Dazzle couldn't live without Razzle's company. I cried and cried.
© Christine Amber, MA, EquestrainTraining.com 1998 - Present
Site Description
Equestrian training.com is a small, personal and horse training business and riding club in Gilroy, Ca. (South San Francisco Bay Area, Silicon Valley) where owner/trainer Christine Amber trains horses and riders. Equestrian Training's focus is teaching adults and teems about, caring for, riding , keeping and owning horses as well as developing safe, strong, and sensible riding skills. You can take private riding lessons in English or Western Riding. You can join the riding club which emphasizes horses as a lifestyle that encompasses exercise, recreation, fun and a significant time commitment of three rides or group lesson a week. Equestrian Training's horse training focuses on foundations that develop safety, relationship, willingness, obedience and balance in an athletic horse.